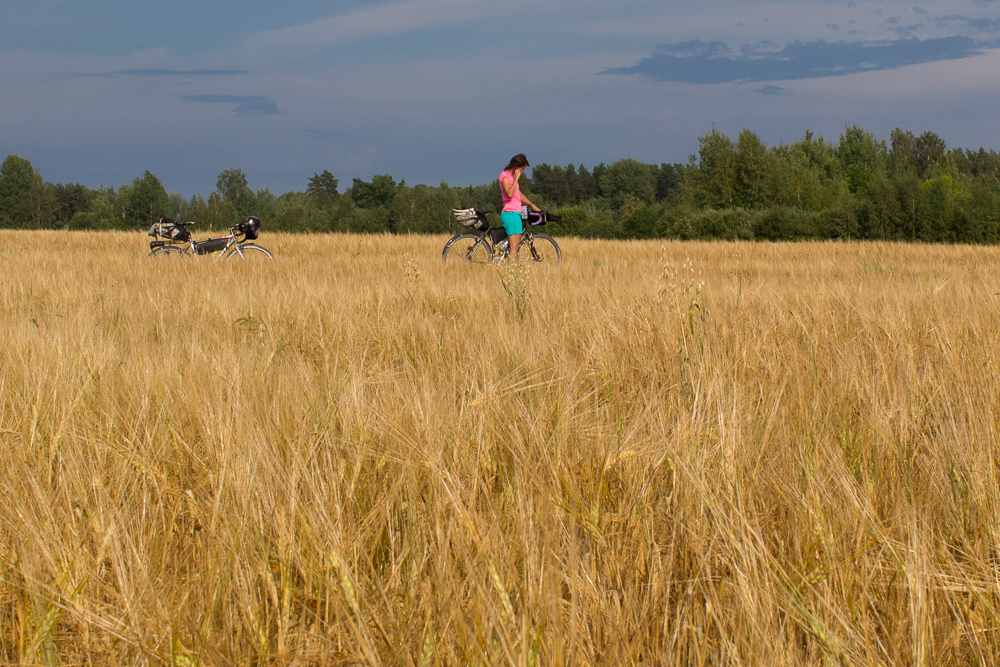 Šo ierakstu veidošu angļu valodā. Ja kāds potenciālais ārzemju viesis uzrod šo ierakstu, cerams tas palīdzēs viņam Latvijas ceļojuma plānošanā. Turklāt vēlējos pamēģināt veidot radošu tekstu angļu valodā, jo 70% ikdienas komunikācijas manā darbā jau ir angliski. Kā tas man izdevās – lasīt zemāk.
Day 1: Rollercoaster
New major trip calls for major technical upgrades. Highlight this year – handlebar bottle cage mount on Marinas bike. Longer rides and better hydration. We started technical preparations early. Required work anyway will fill up allocated time, and we were still adjusting and bolting late in the night before departure. I also learned to test-run novel technical ideas before entering field. Quick beer run with loaded up bike prevented bottle in spokes. Zip ties do not work well to attach 1.5 L water bottle cage to rear rack.
Although late to bed, excitement of anticipated adventure did not hinder us from waking up at 5:00 and catch 6:20 train to Valmiera. Naps during train ride compensated for lost sleep.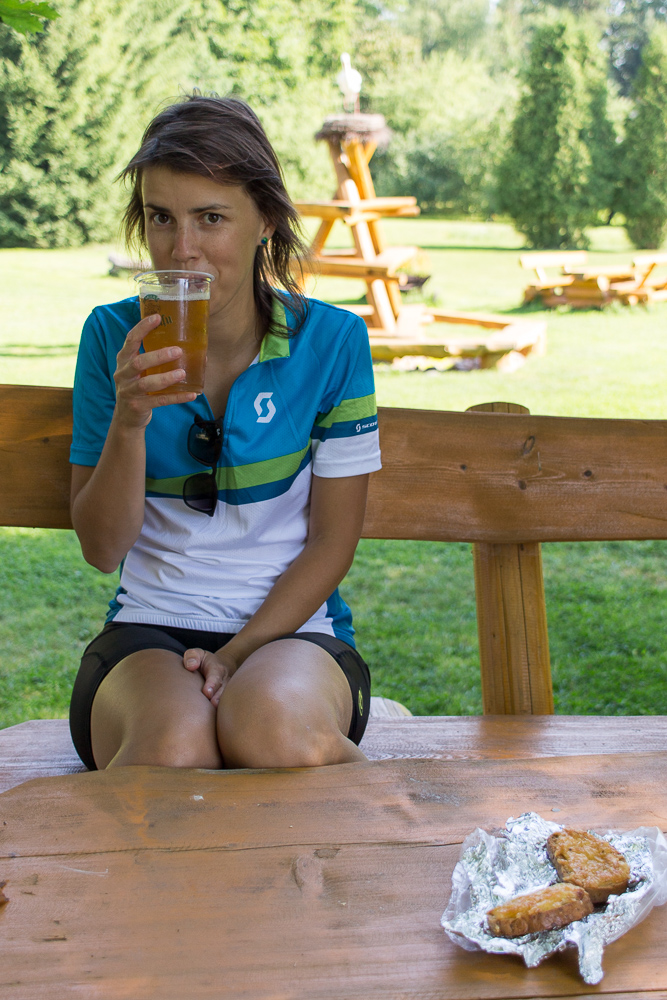 We were passing Brenguļi village, which is known for it's beer. It's among Marinas top 3 brews, a beer stop was mandatory. We found it amusing to order a beer on tap at 9:00 wednesday morning.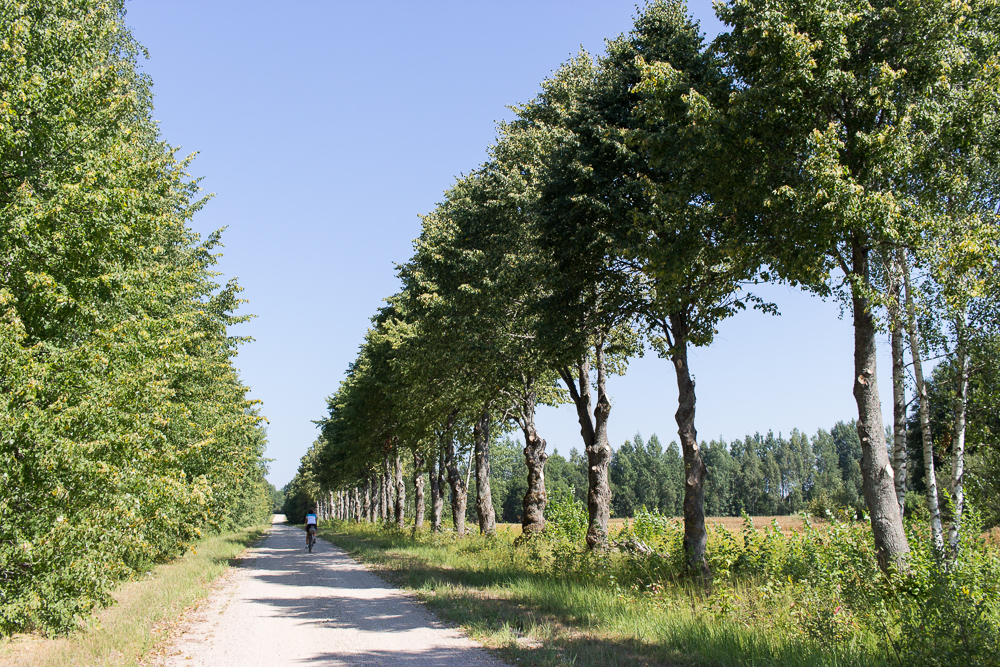 In Trikāta there's a shop selling home made ice cream so thick, it was not really melting, rather slightly reducing viscosity. With this eating and drinking so early in our trip the calorie balance was in favor for intake.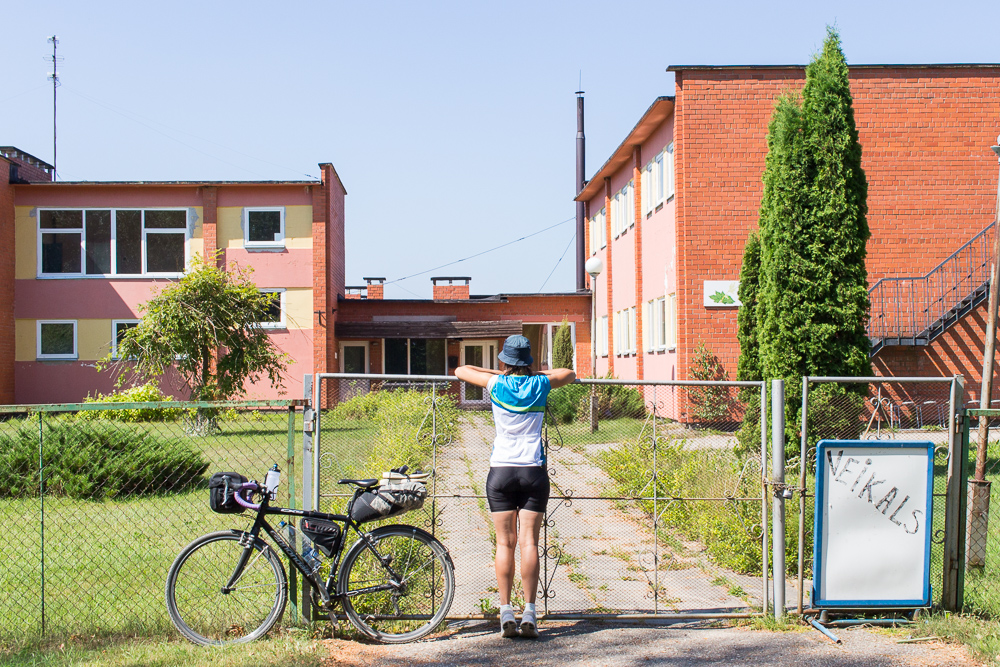 Visiting countryside villages we saw evidence of demographic challenges we hear in news. One such encounter in Plāņi. Looking for a grocery we found it situated in building resembling school or kindergarten. School was closed, so was the shop. No ice cream here.
Dust is part of Latvian gravel. There is not much we can do about it, just endure. Side winds help us by blowing dust to one side and reducing our exposure. Unfortunately cannot remember any instances where driver would slow down when passing us. It's frustrating, but larger vehicles have upper hand.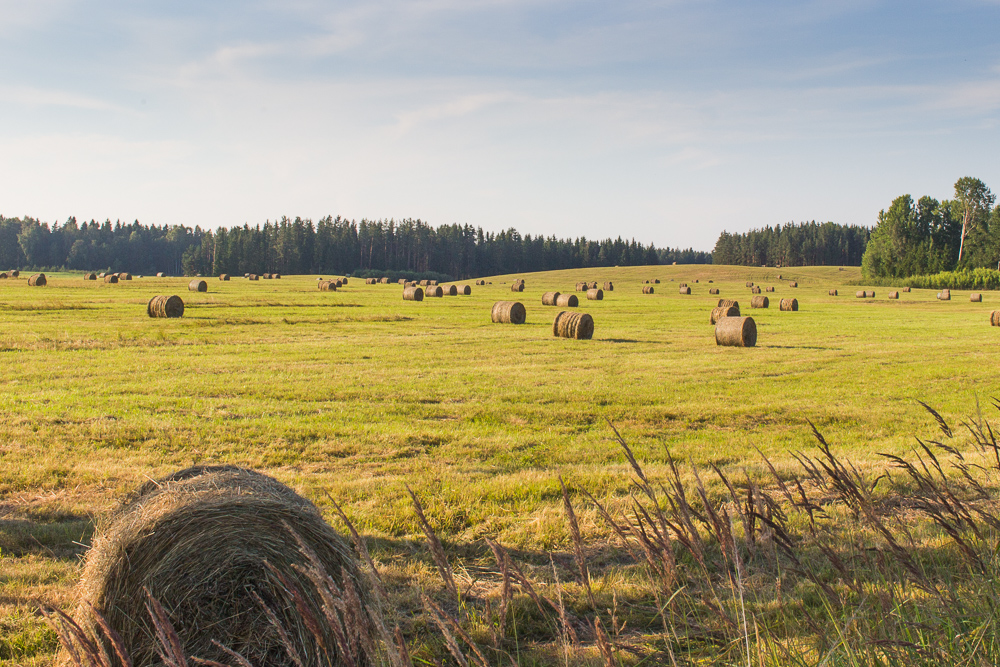 We travel light and only food items we carry are snacks. Breakfast and dinner is provided by local grocery and whatever we can use at our night stay. Before heading to our first home, we had to make a round trip to Grundzāle for shopping. We have made it to Grundzāle already hungry and ready to swipe our credit cards in exchange for excess food package. Our visions are shattered by "Shop Closed" sign in the window. That's a kick in the nuts for our morale. This is the only shop within village, and 5-7 km radius. Provisions of adding 2 more riding hours to already long day is not exciting. Sitting down to figure out a plan somehow I fell asleep while Marina was buried in her phone checking our options. After half hour of me sleeping Marina decided it's time to wake me up and update with progress. Meanwhile Marina tried negotiating shopkeeper to acquire some items, but no success. Cars were arriving and leaving with disappointed faces inside. And with that we accepted our leftover trail mix and oatmeal cookies diet for next 12 hours.
On way back to our camp we were passing Grundzāle suburb. We saw some residents gathering around a van. I did not have a clue, but Marina recognized the van is a car shop. She had seen the logos during a TV program showcasing local farmer business called Grasbergs. Instant we queued up along with locals and loaded up for our dinner. Driver was curious about our cheerfulness. We shared our story and in return he complimented us with some ice cream, which was finished on the spot. While we were enjoying the present, a neighbor lady approached with a pack of tomatoes. She had overheard our misadventure with the shop and felt that we would appreciate some veggies. That was for sure. We were set for a feast.
Day 2: Lazy
Second day out from daily routine on a cycling trip is most challenging for me. Contrary to office where sitting in a chair for 5 hours, now we pedal about the same. Sore butt, stiff back and heavy legs. Good that there is a ditch outside hut door and we dip for a morning swim to freshen up. Still need to work on discipline, as we set out after 11:00. We'll get better.
Gaujiena has a rich heritage and it was one of our trip highlights. Gauja river marks the city border and main entrance is the bridge. We got absorbed by the historical buildings composing the Gaujiena Palace ensemble. Sitting on the gymnasium steps I imagined all the steps and all the youth entering on 1st September and then leaving upon graduation.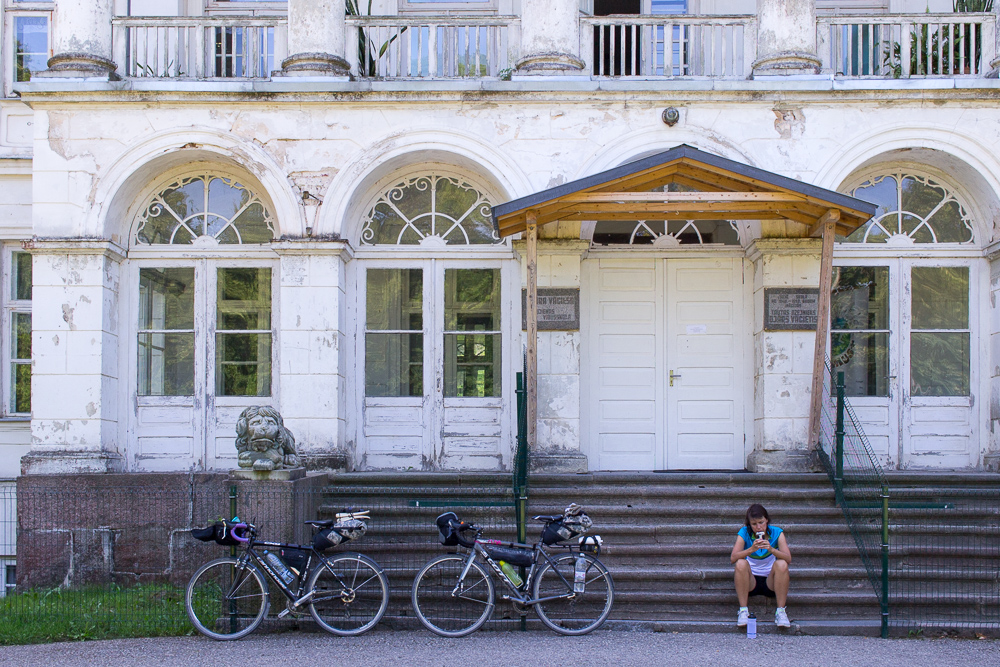 While planning the route in this area, A2 highway is almost inevitable. Anywhere we wanted to go, we had to traverse the A2. We had two options from Gaujiena. Either extra 2-3 hours via Estonia or 30 minutes stress-y on the A2. Relax levels were high and we decided to make a down payment in stress to A2. Cycling is to relax anyway, right? With slight tail wind we were done with the highway part quick.
We turned right off the highway to Trapene. Sun was high, and we enjoyed the shade in pine tree alley. It shielded us from wind, and we were advancing rapidly. This alley is supposed to be top3 longest in Latvia and consist of more than 600 trees.
Looking at the elevation profile of our route, Alūksne marked the highest point. This was visible on the way from Trapene, as after every corner we continued uphill. Skipping the Estonian detour granted us early arrival in Alūksne. Hefty dinner at local tavern was in order to celebrate days progress. Alūksne gave an impression of orderly and tidy town. An outpost so far from capital Riga, next tor Russian border.
It was city festival weekend in Alūksne and therefore limited accommodation options. We wanted a place at lakeside, because of our target to swim every day. When we plan our trips, we look for accommodations in local municipality tourism websites or catalogs and try to skip booking sites. We like the adventure, and we like seeing the rural culture and getting personal with the hosts. This night, we had to go with booking and even did not succeed calling the owners. OK, eventually we did, but only after several tries. It was a lodge planted between a forest patch. Instructions to enter the house were under doormat. We were not disappointed discovering that there was sauna. We fired it up and the sleep afterwards was splendid.
On our way to this lodge we passed military school. We heard heard young men voices singing. Then we saw the recruits emerging around corner doing their, assuming, evening march. We stopped to listen the recruit voices echoing across the lake.
Day 3: Storm around us
Morning swim plans got jeopardized by blue algae. We used our phones for photo reference. Although unsure, it was still no swim.
Days weather forecast was signalling a thunderstorm. We saw already dark clouds approaching  Alūksne, but it did not stop us from visiting the watchtower. Surprisingly there were no warnings on visiting during poor weather, and shopkeeper let the tower access open. We could observe the rain clouds covering Alūksne and opening rain around us.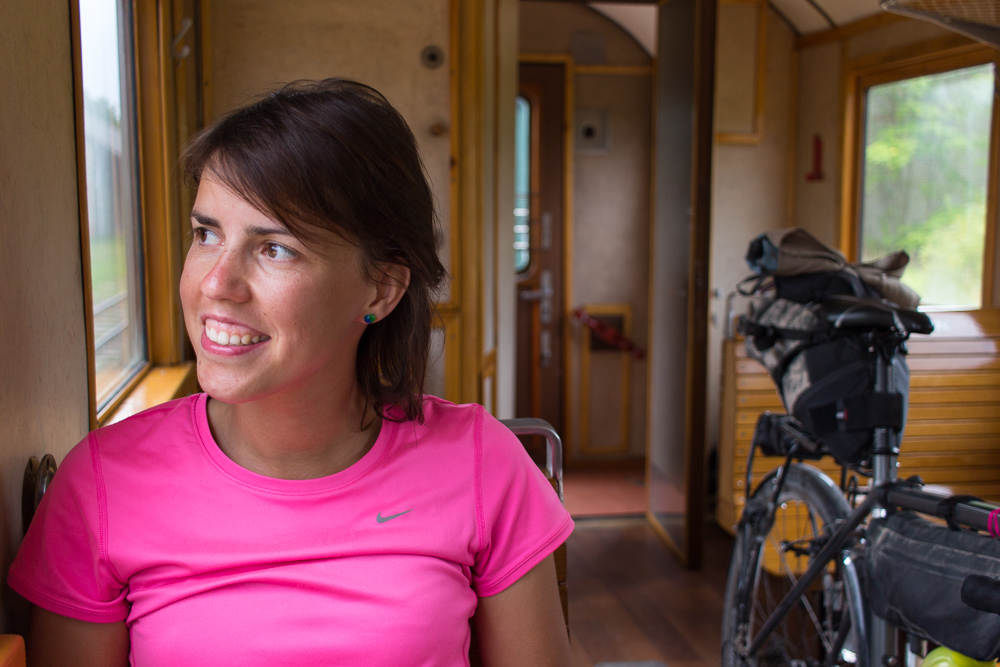 Narrow gauge train line still operates between Alūksne and Gulbene. Sometimes they even run steam engine. For our ride we had to suffice with diesel power and soot smell entering cabin. This train trip fit well to our days theme – lazy and no rush. Entering the cabin everything I felt to slow-down. We won't reach next stop faster than the train can take us. Sitting down in our seats entered a time machine. Cabin interior has been maintained as built. Landscape outside is a mix of forestry, meadow and swamp. Buildings along the tracks seem same age or older than the train. We may as well dress in 1930's gear – tweed suit and dress – and have few our belongings in leather suitcases.
We left train in Stāmeriena, and made a stop at Stāmerienas lake. So no no-swim day after all. We saw storm had visited before us. Lots of leaves and broken branches scattered around, and a birch tree knocked down. We continued in storms footsteps along puddle filled gravel and tarmac.
Our next stop was Gulbene. Search engines enticed us with pizza place adverts, and we set our target to dinner there. Eventually it was booked for private occasion. Should have called first. So supermarket dinner had to suffice and we set up camp at town square. Even though it was Friday evening, not too much was going on. Little pedestrian and car traffic passing us. I imagined Gulbene to be more lively than what experienced. On our way out we passed the restored manor and castle ruins. It offered more sights than the side of town we were hanging out already. We left longing for more exploring, and Gulbene is worth visiting again.
Day started lazy, and we were still on our bicycles late in the evening. Dawn carried along a scent of autumn. Arrived at our place with enough time left to make our beds and get to sleep.
Day 4: Discipline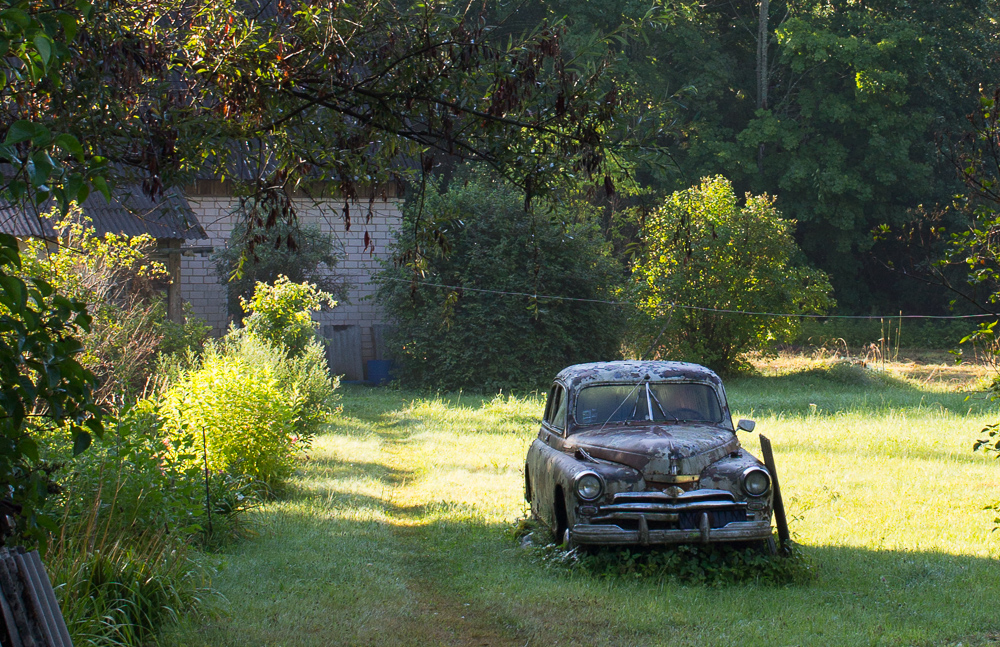 Three days in we start to develop discipline, and today we are rolling already 8:00 AM. Small achievement compared to consistent sleeping in late. When I succeed waking up early, the cool morning air and dew glittering in grass is revarding. Nevermind that it is Saturday, locals are busy in fields working on tractors.
Similar to last year trip, we again got routed via Latvijas Valsts Meži roads. It's practically a forest bicycle path with a fully equipped camp sites here and there. We stopped to explore one of these camps and immediately get engulfed in gadflies. Camping out here would be irritating. Imagine the amounts of mosquito spray to stay protected.
The next journey segment was marked as dotted line in map. That means there's a 50/50 certainty that the road continues. It can vanish, it can be behind a fence, it can be entering dead end private property. For us here it lead in a oak populated meadow. Surrounded by these mighty trees was like being in a fairy tale.
Here I have to rant about car drivers. Before Lazdona we had to cross a short piece of intertown paved road.  Within ~ 5 km ride I experienced two overtakes with car mirrors zipping next to our shoulders opposite way. I watch these drivers coming at us at 100-110 kph. Staring at them in disbelief and I notice same in their face. I think there was slight fear there as well.  They briefly may realize they are in command of a weapon. Concentrating to finish this ludicrous maneuver safely they are gone. These overtakes are few seconds, but I remember them as eternity.  I wonder how driver would react if I would flip him. Hit the brakes and get back to us?
Lazdona has two lakes. One is next to the milk plant. Second is segregated by a hill with a school on top. We pick to eat lunch in the schools shaded courtyard. It's quaint as Saturday and we are the only noisemakers. We start to notice children laughter here and there. It's the second lake where locals are enjoying water activities with their families. Two lakes next to each other, one deserted, the second crowded. An example of industrial peril.
Regret to admit there is not too much pictures of this day, because we were… focused to get to our destination on time. Got to say that after Lazdona it was all down hill, as we were rolling down the Vidzeme plateau. Curvy and wavy gravel got us down to Mārciena, where we stopped at the Manor for a nap.
Hereby I want to commend staff at Mārciena manor. I show up to reception desk all sweaty, unshaven and dusty. I collect my best formal voice tone to inquire if it's OK just to hang out around the manor grounds. The administrator seems to ignore my appearance and cordially welcomes us to enjoy the premises. By the way, we can explore library upstairs.
In this trip I learned the wonders of naps. I usually don't nap, and try to stay awake even the longest days. Here, after 15 minutes of sleep, my energy felt high as in the morning and legs were fresh. Ride smarter to ride farther, right?
We encountered church ruins and a couple was working there, seemed to be cleaning up. They were actually getting ready for their wedding next Wednesday. They too have randomly discovered the place, and decided to get ceremony there. Wanted something out of ordinary scheme. Apparently local church chapter is not bothered to maintain the ruins.
For this days gravel segments washboard levels positively correlated with human habitation. Even if we were coming downhill, we had to tread a needle along 30 cm wide roadside negotiating loose rocks and sand. About 95% of road width was washboard. We were looking forward to the paved section. Once upon the tarmac, we hammered on to Jaunkalsnava with generous help of tailwind.
Day 5: Determination
The campsite we got to share with competition of Latvian fishing championship, seniors group. Campsites are infamous with neighbors taking their parties long into morning hours blasting last decade club hits. In our scenario with the championship on schedule it was curfew after 22:00. Here I did become the infamous neighbor. We did not blast dance hits, but I tried to chop wood in the dark for our bonfire.
In the morning it was absolute concentration in the air. Contestants were evenly spaced along the river bank. It was silent, occasion plunges of fishing floats and bait landing in water. Instead of talking, we whispered. Just did not want to break the concentration.
Final day of our trip was the day when storm got us. We had to transit a highway section to next gravel bit taking us to Pļaviņas, when halfway we got stopped by thunder and downpour. Roadside trees had to suffice as shelter for the occasion. Fortunately It did not rain long, and soon we were surfing puddles. Panaracer Gravelking tyre makes funny noise on wet pavement.
Train returning to Riga was scheduled from Pļaviņas. We had not planned to do much here, and with spare time left to departure, we settled for some cloud watching on Daugava riverbank. Suddenly we were risking to be late at the train station, and decision was made to scale a grass field for shortcut. Hereby I must tell, that urban field shortcuts pose some risks, such as poop. Once in a similar scenario I landed my bike in one. Needless to say that rest of the ride was smelly. This time Marina got the lot. There was still a bit to go till the train station, and Marina was surfing all the puddles on road to get tyres clean. We did not want to make train carriage smelly for other passengers.
Arriving in Riga first thing I felt the air was different. After 4 days in countryside it was noticeable contrast for my nose.
It was sunday evening with back to work monday. Returning home the bikes needed to get fixed for commuting duties asap. Hesitantly I removed bags and hardware. At that moment all I wanted was just to sit down and let the experience sink in.